Romaskin
I ein av mine fyrste bloggar skreiv og stilte spørsmålet om «det gode liv etter fylt 50 år? Kan eg få dei beste åra i livet mitt etter fylte 50?» Noko av det eg då konkluderte med var at for å ha det så bra som mogleg så me eg vera i god fysisk form. Dette vil sei at trening, aktivitetar, kosthald må tilpassast målsetninga. Har alltid trent ein del heilt frå ungdommen, men i periodar har treninga vorte satt litt til sides, slik dei fleste erfarer at ein må gjera pga arbeid, familie mm. For egen del er vel styrketreninga som eg har greidd å halde mest vedlike oppigjennom alle år. Kondistreninga har gått litt meir i bølger, sjølv om eg har gått Birken nokre gonger på 90 talet. Har også lagt ned eitt par års trening for å prøve meg på Oslo maraton, noko som dessverre vart stoppa pga ein betennelse i hofta eitt år, og kraftig overtråkk det neste.
Nok om det, nå har eg kjøpt meg romaskin, ei flunkande ny Cocept2. Dette skal vist vera «Rolls Roys`en» blant romaskiner, og er den alle andre vert målt opp mot. Har for eigen del aldri trenet noko på romaskin, men leser at mange er svært fornøgde med nokre økter på dei i veka. Tenker det då vil vera eit godt supplement til ski, jogging, toppturar og styrketrening. Særleg på dagar med regn, sludd og is ute!! Så nå har eg prøvd den ei veke, det vil sei at eg har hatt 4 økter inkludert den fyrste testen på bare 15 minutt den dagen eg monterte den.
Fyrste treningsveka
Fredag, monterte og fekk romaskin på plass heime. Kjørte roleg i 15 minutt, greitt og moro, men vart støl i rumpa😊 Søndag, fann eitt intervallprogram på YouTube. Rolig oppvarming. For så å kjøre 1 min med hastighet 20s pr min, så rolig i 1 min. Gjenta dette så 4 gonger, for så å gå opp til hastighet 22s pr min, videre 24,26 osv. Gjorde dette i til sammen 32 minutt, som gjekk veldig fort. Var heldig og fann at mi Suunto-pulsklokke, eller retter pulsband -brystband, lot seg lett pare med romaskina. Tirsdag; samme intervall som på fredag, men økte hastigheten raskere. Så eg kom opp på 30s pr min på dei siste intervallene. Torsdag; nå hadde eg søk og sett litt meir på nettet, og funne ut at ein test nok hadde vore moro å tatt for å sjå korleis eg låg ann før eg har trena noko særleg på romaskina.
2000m test
Fann då raskt ut at tida på 2000m visstnok er diskusjonstema blant aktive og mosjonistar på romaskin, så dette var vist distansen ein måtte -bør teste seg på. Satte så i gang, fyrst 5 minutt oppvarming. Så var det å bla igjennom menyen der eg lett fann 2000m som eit alternativ, så då var det bare å ro i veg. Gjekk nok litt hardt ut og fekk beste 500m tid på dei fyrste 500m. så var det gjevne tider på dei neste to 500m, for så litt raskare på dei siste 500 metrane. Enda då opp med tida 8.20.7, kjørte så roleg roing i 20 minuttar som siste del av treninga.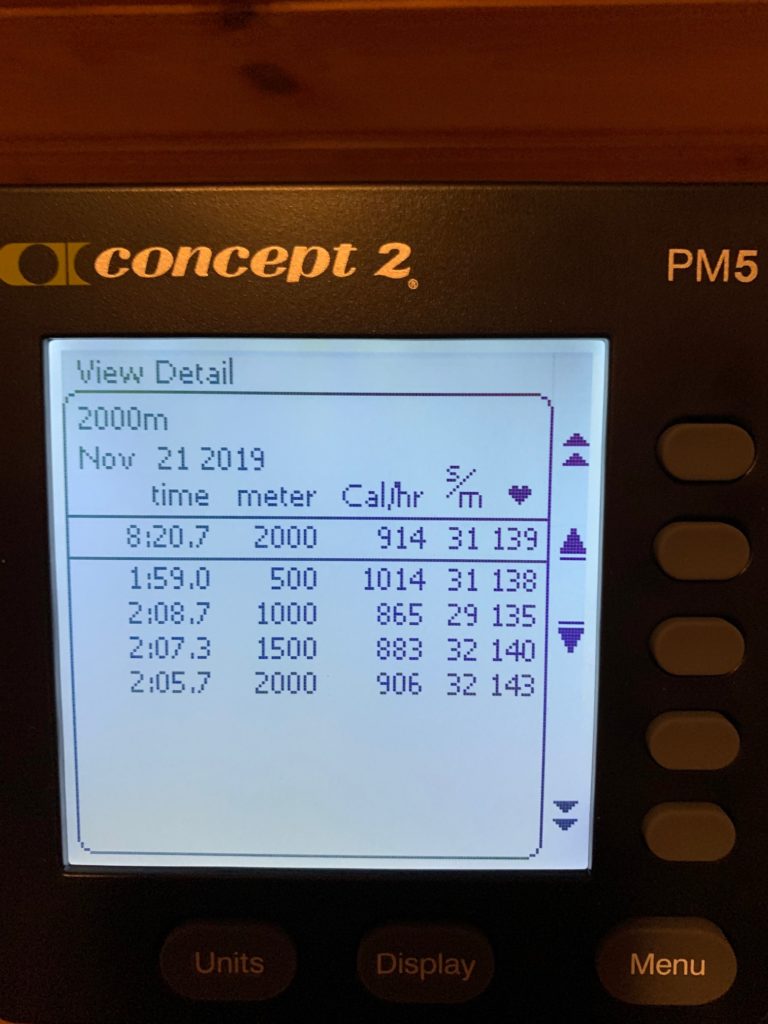 Gjekk så inn på Concept2 si heimeside og registrerte meg som ny brukar der. For ein som er kanskje litt over snittet interessert i tal var det då moro å sjå kva slags tider og nivå som er gjeldande. Hadde ikkje den minste aning om kva for tider ein snakka om her, så dette var spennande. Var ei veldig enkel og grei heimeside å bruke, og eg fann at mi fyrste tid på ein 2000m roing på Concept2 romaskin plasserte meg på ein delt 1416 plass i verda. Så her har eg ei konkret tid å legge til grunn, og tider eg kan jobbe mot. Som sagt mi fyrste veke på romaskin, og fyrste test på tid. Så kva eg kan forvente meg framover har eg ikkje peiling på, men magefølelsen seier at eitt minutts betring i tida bør kunne vera innan rekkevidde. Ein kjapp sjekk i rankeringslista viser at om eg får tida ned på 7.20.00 talet, så vil eg komme på rundt plass 500. Noko som kanskje er veeeel optimistisk? Men  nokre mål kan ein då sette seg.

Treninga framover
Som eg har skrive er dette heilt ny treningsforma for meg, så kor mykje eg bør trene er eg ikkje sikker på. Har frå før hatt fyljande treningssplitt på ei normalveke.
Måndag; styrketrening bryst, skulder og triceps, med frie vekter Tysdag; kondis, intervall Onsdag; Styrketrening lår, rygg og biceps, med frie vekter Torsdag eller fredag; kondis eller kettlebell trening Lørdag og søndag; jakt, fjelltur, ski, løping alt etter kva tid på året ein er i.
Styrketreninga er innøvd og fast for meg med minimum to økter pluss ei med kettlebell om eg får tid. Så det er nok det å bytte ut eit par andre kondisøkter i veka som vil bli gjort.
Uansett vert det moro å teste ut denne treningsforma og sjå korleis eg likar dette utover vinteren.